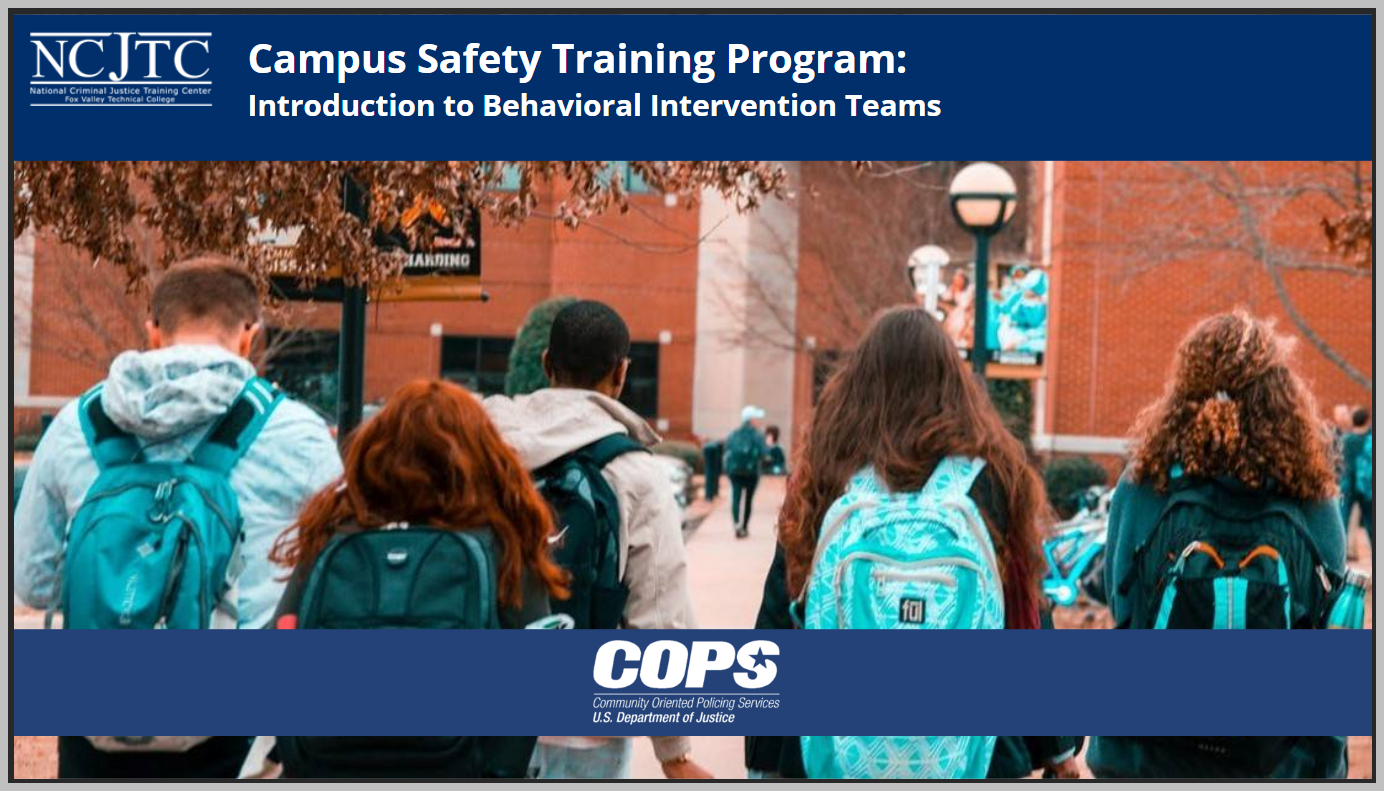 Course Overview: Campus Safety Training Program: Introduction to Behavioral Intervention Teams, an eLearning course, provides an overview of the function of a Behavioral Intervention Team (BIT) within a school environment. Main topics include identifying the role and purpose of a BIT, reviewing key terminology, and exploring strategies to implement a BIT in any school. Additionally, the course outlines the school resource officer's role in a BIT.
The Office of Community Oriented Policing Services (COPS Office), U.S. Department of Justice and National Institute of Justice funded the National Policing Institute to implement a project in 2015 to track incidents of averted school violence on a national level. As of April 2018, 51 reports had been filed, although it is suspected that many more incidents have gone unreported. An "averted incident" is defined as a planned violent attack on school grounds that is prevented before injury or loss of life has occurred. In tracking these incidents, five key actions have been identified to improve school safety, ranging from well-defined and rehearsed active shooter plans to focused plans promoting personal relationships with students. The development and consistent involvement of a multi-functional case-management team for review of concerning behavior plays a critical role in improving school safety. These teams, commonly referred to as Behavioral Intervention Teams, are the focus of this introductory eLearning course.
Campus safety stakeholders benefit from examining foundational components and appropriate applications of a BIT in effort to prevent school violence.
Learning Objectives:
Define the role and purpose of a BIT
Define terminology associated with the BIT
Identify ways to implement a BIT in any school
Discuss the role of a school resource officer in a BIT
Target Audience: School personnel, law enforcement, including school resource officers and campus safety professionals.
Cooperative Partners: This tuition-free online training was developed by the National Criminal Justice Training Center of Fox Valley Technical College and was originally supported by cooperative agreement 2017-CK-WXK-007 by the U.S. Department of Justice, Office of Community Oriented Policing Services (COPS).
Learning Hours: 1 hour including the pre-test and post-test.

Arizona POST Approved Course
AZPOST Approval 22-346
AZPOST does not require the standard approval form for this course; however, if you would like one, please contact AZPOST directly at contactus@azpost.gov .