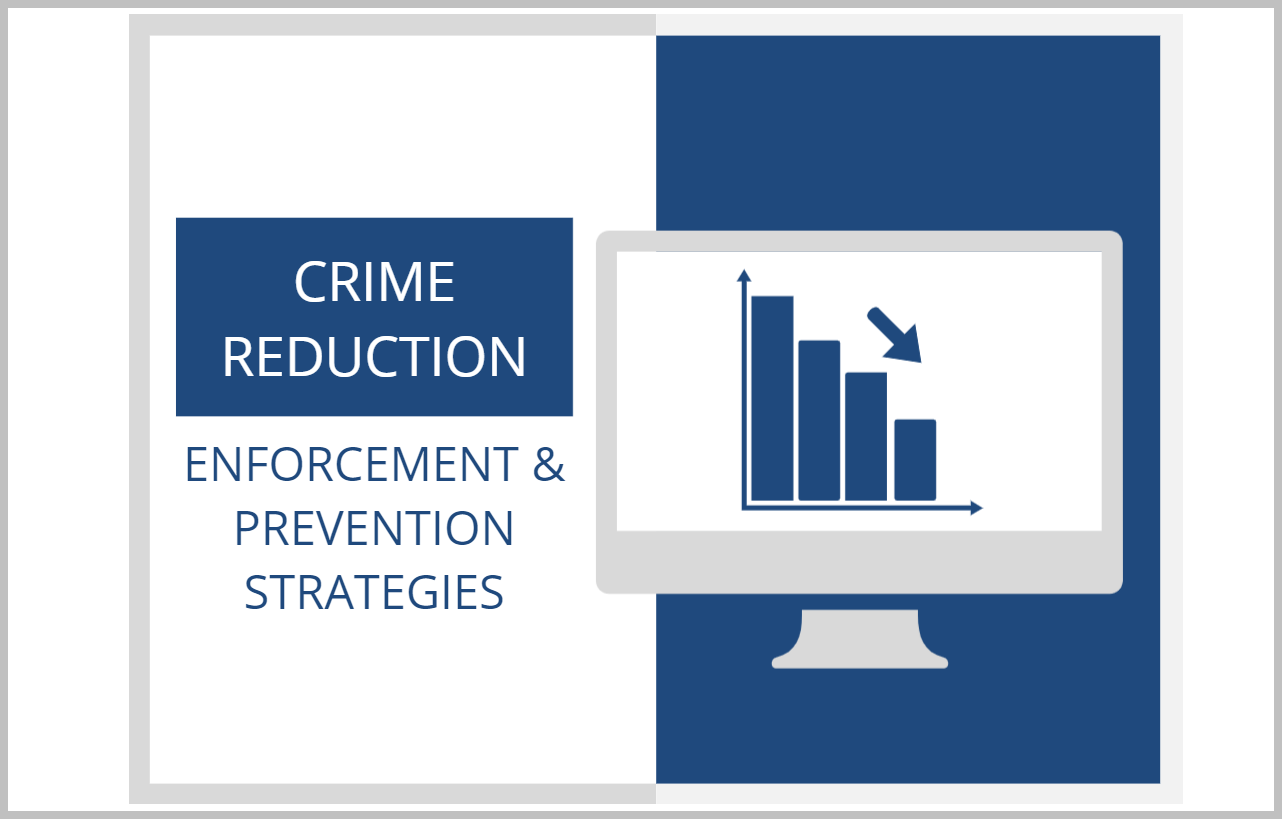 Course Overview: Crime Reduction: Enforcement and Prevention Strategies, an eLearning course, offers current guidance on effective enforcement and policing strategies aimed at crime reduction. The course also explores the application of crime prevention as a means of actively interdicting and preventing crime in our nation's communities.
To help connect principles to practice, this course highlights crime reduction initiatives undertaken by law enforcement agencies around the country, demonstrating how policing strategies can be applied in varying contexts. Through video interviews and case studies, each module presents real-world examples to illustrate the strategies presented in the course. The course benefits law enforcement personnel of all assignments, representing agencies of all sizes and demographics, who play a role in crime reduction. Non-law enforcement community stakeholders may use this content to enhance their awareness of crime reduction efforts.
Learning Objectives:
Identify challenges associated with crime reduction
Identify ways in which police organizational structures contribute to crime reduction efforts
Distinguish between immediate, short-term, and long-term strategies to reduce crime
Recognize the stages of the SARA model
Distinguish between types of crime patterns
Apply the problem analysis triangle to an authentic crime scenario
Analyze responses to crime patterns
Identify situational crime prevention techniques to address a long-term crime problem scenario
Analyze offender-focused strategies used as part of a focused-deterrence approach to crime reduction
Identify community-oriented strategies to reduce crime through a proactive, preventive approach
Target Audience: Law enforcement personnel and non-law enforcement community stakeholders.
Cooperative Partners: This tuition-free online training was developed by the National Center for Policing Innovation (NCPI), formerly known as Virginia Center for Policing Innovation, and was originally supported by cooperative agreement 2017-CK-WXK-001 by the U.S. Department of Justice, Office of Community Oriented Policing Services.
Learning Hours: 4 hours including the pre-test and post-test.

Arizona POST Approved Course
AZPOST Approval 22-335
AZPOST does not require the standard approval form for this course; however, if you would like one, please contact AZPOST directly at contactus@azpost.gov.