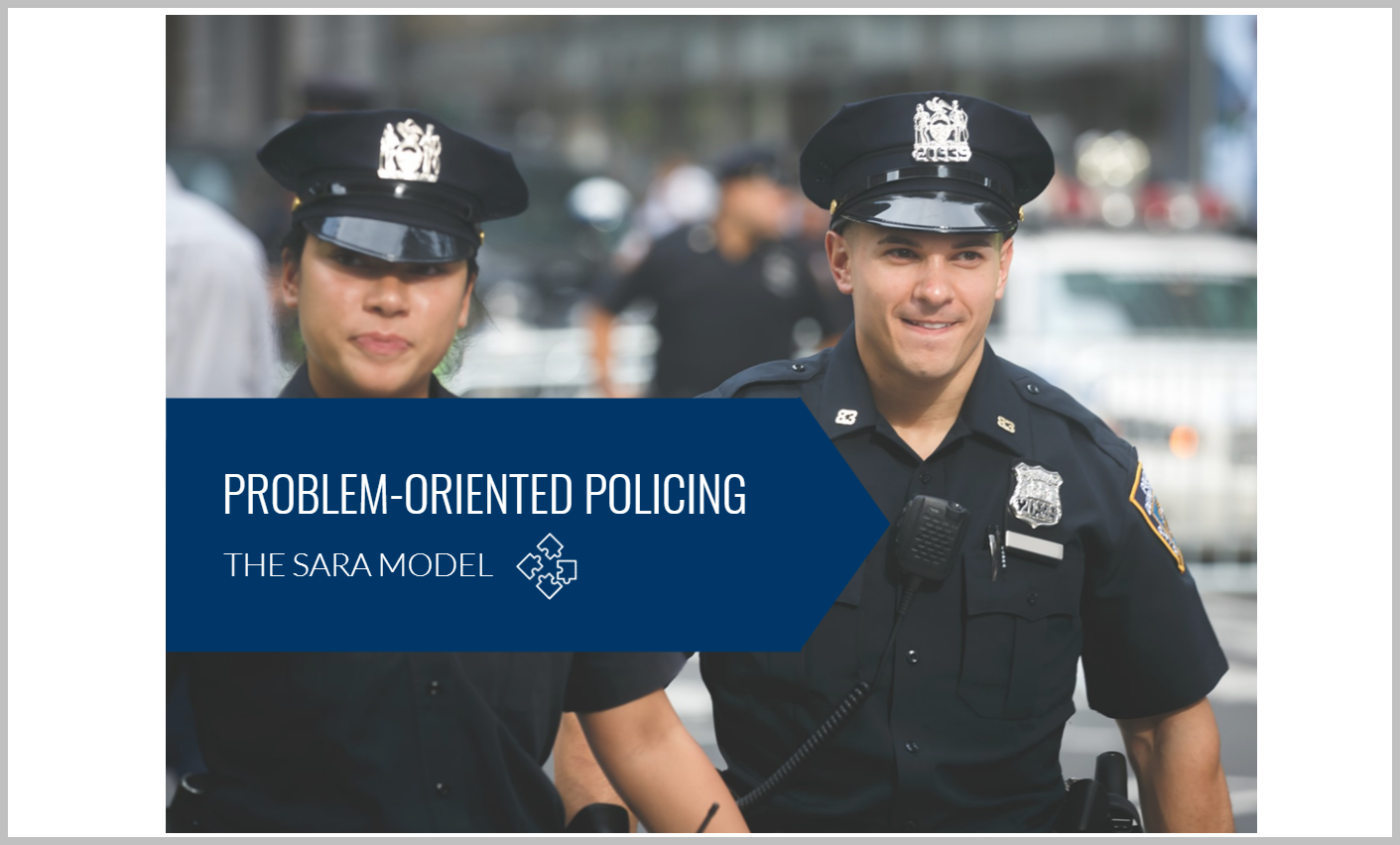 Course Overview: Problem-Oriented Policing: The SARA Model, an eLearning course, provides learners with a basic awareness and understanding of the fundamental principles of a common approach used by many community policing agencies to identify and solve repeat crime and community problems. The SARA model allows agencies to scan through multiple data sources, conduct a thorough analysis of a problem through the lens of the crime triangle, formulate a response, and continuously assess the impact of the response to the problem.
Describing the four steps of the SARA model (scanning, analysis, response, and assessment) in sequence, the modules also help learners identify when to move from one phase to the next. Correctly identifying the real problem in a community is a critical step in making a lasting impact on neighborhood crime and disorder. Learners explore the importance of assessment, types of evaluations, and nontraditional measures for determining effectiveness. Finally, the course outlines considerations for implementing Problem-Oriented Policing within an agency.
Learning Objectives:
Differentiate between the terms Problem Solving and Problem-Oriented Policing
Identify the goal of Problem-Oriented Policing
Describe the four steps of the SARA model
Differentiate between incidents and problems
Describe the variety of sources from which a problem could be identified
Identify factors that assist with prioritizing and selecting crime problems to solve
Explain the importance of stakeholders in the problem-solving process
Explain the importance of the analysis step of the SARA model
Explain the importance of third parties in relation to the crime triangle
Identify resources to assist with solving problems
Explain the factors that indicate the need to move from the analysis phase to the response phase of SARA model
Identify the four different parts, in sequence, of the response phase of the SARA model
Describe the variety of factors that are considered prior to planning or implementing a response
Describe the importance of timetables and action plans in the response phase
Identify ways of debriefing during and after the implementation of a response
Describe the role of assessment in the context of the SARA model and the problem-solving process
Consider the implementation of Problem-Oriented Policing in their own agency
Target Audience: Law enforcement, criminal justice professionals, and other community stakeholders.
Cooperative Partners: This tuition-free online training was developed by the National Center for Policing Innovation (NCPI), formerly known as Virginia Center for Policing Innovation, and was originally supported by cooperative agreement 2017-CK-WXK-001 by the U.S. Department of Justice, Office of Community Oriented Policing Services (COPS).
Learning Hours: 4 hours including the pre-test and post-test.
Arizona POST Approved Course
AZPOST Approval 22-328
AZPOST does not require the standard approval form for this course; however, if you would like one, please contact AZPOST directly at contactus@azpost.gov.